As published by the Lake County Star on July 8th, 2015.
LAKE COUNTY — A recent advertising push to rebrand Lake County as the Midwest's Off Road Vehicle destination is paying off as Bit Social Media, the company running the initiative, reports positive results both online and on the trails.
The initiative began following the approval of a $45,000 state grant for advertising the county as an ORV tourism destination. County Commissioner Dan Sloan headed up the county's ad hoc committee on economic development which organized the new push.
"Lake County suffers from economic challenges including a high unemployment rate and a low average income," said Sloan. "This initiative will reach out to people all over the Midwest to bring in more tourism dollars and generate more businesses and more jobs. We're already seeing positive results."
The campaign was organized through Bit Social Media, a Michigan-based advertising company. It centered around increasing the presence of Lake County on the internet, not only through general means like traditional advertisements, but through targeted marketing and reaching out to their primary audience of Midwestern ORV enthusiasts. This meant utilizing tools such as Facebook, Twitter and a new website built for the ORV initiative.
"Considering we started this brand from the ground up and there was no existing platforms in place, we are a few steps ahead of our initial projections at this point and we couldn't be happier," said Lindsey Westdorp, the co-owner of Bit Social Media. "There has been great engagement and interaction with our fan base so far and we are reaching riders from all over the country at a much faster pace than we originally anticipated. We are now starting to see our fans generating content for our use which is always the best case scenario. We want to see their pictures and accounts of positive riding experiences on our trails."
HITTING THE TRAILS: The ORV initiative organized by the county and run through Bit Social Media is already showing positive progress in less than three months of operations. The ultimate goal is to increase tourism and bring more money and jobs to the community.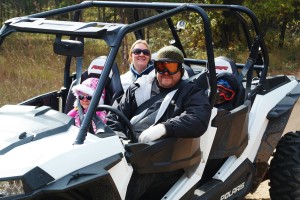 GOOD NUMBERS: Bit Social Media is reporting growing web traffic, a large amount of return visitors long page views to both the website and Facebook page created as part of the county's push to rebrand Lake County as the Michigan's premiere ORV destination.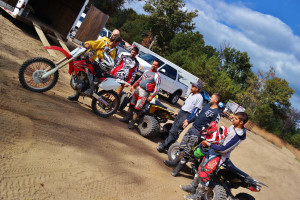 About 65 percent of the new website's web traffic is driven by Facebook, and in less than nine weeks time the site is fast approaching 5,000 site visitors and 14,000 page views. Westdorp said the initiative's Facebook page has surpassed a number of other similar Facebook pages throughout the country, has hit more than 7,000 fans by Fourth of July weekend — in only 11 weeks time — and is fast gaining on some very large pages that represent areas that are some of the best ORV riding in the country.
"The goal is to not just inform riders and promote safe and courteous riding, but it is to 'get the secret out,'" Westdorp said. "Lake County seems to be this hidden gem that some outdoor lovers would like to keep all to themselves. In the time we spent on the trails gathering photo and video content we were able to talk to dozens of riders and they were all saying similar things: Lake County is their favorite place to ride, they come back year after year, and many times they are coming from very far away. Northern Michigan is the place to be right now for ORVs and we are definitely capitalizing on that."
A downloadable app also was created as part of this initiative. It would show maps of the trails and county and also highlight points of interest such as gas stations, restaurants, hotels and other local businesses those visiting the county would be interested in. In less than four weeks, the app has been downloaded several hundred times.
With more than 300 miles of trails available for ORVs, Lake County has always been a premiere resource for those who enjoy seeing the outdoors at top speed. Organizers of the initiative like Dan Sloan say the challenge is now getting more people to realize that.
"I think it has been a great investment," remarked Sloan. "The costs of doing this through traditional media would have been far greater and wouldn't have been able to specifically target ORV enthusiasts. I've spoken to business owners who have told me they are already seeing better business this season."
Written by Brendan Losinski of the Lake County Star.